Hang 4. -A Squatted Social Center

---
Short History

Update 05-03-2005 !!! The Hang is No More !!! We very unexpectedly lost the second court case. Oh well. We had a blast and there will be more projects/squats. We'll keep you posted. Everything below is just kept online for historic reasons

---
The Hang is a large squat (about 500 square meters) right in the commercial center of Rotterdam. It is located 2 minutes walking from the Blaak marketplace. Hang 4. is the address (there sometimes seems to be confusion about this).

It was squatted on 08-02-2004 by the KSU with the help of many people for some students. The initial squatting was very tough since the police was very difficult and had to be talked out of eviction. Luckily it worked out, albeit just. Once again knowledge, preparation, dedication and not giving in made all the difference.

The students and their friends had many plans for the place. After some time however it became very likely there would be a court case. The pressure of having to work on their graduation/thesis combined with the pressure of having to face a legal proceeding made them decide to leave. They had no experience with legal issues nor the time and means needed in order to stand much of a chance in court.

A member of the KSU heard about all this. It seemed like a logical and understandable decision but a waste to give up the squat without a fight. The KSU person then decided to resquat (19-04-2004) the place right after the students left. This way he could go to court and hopefully help out other people with the space.
A lot of people helped with both the initial and second squatting.

The court case took place on 06-05-2004 and the squatters won!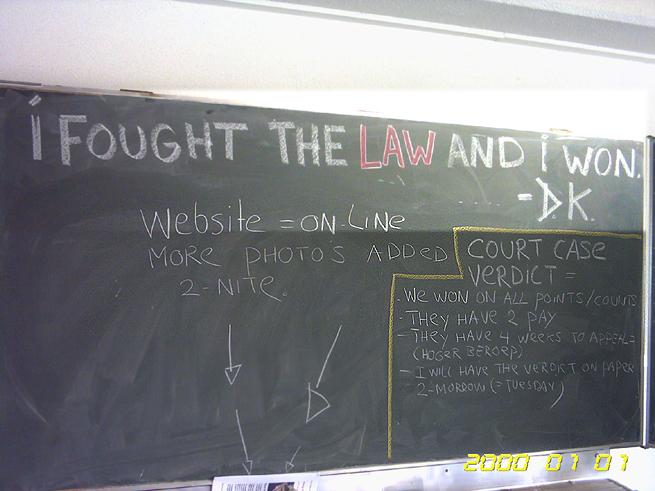 The victory was due to thorough preparation -a lot of effort by many people-, a good lawyer, a capable spokesperson and of course some luck. People are now living, working and basically having a really good time in the Hang and we all hope this will continue for a long time.


At present the Hang and the owner are engaged in a so called 'bodemprocedure' this legal proceeding takes (much) longer than the previous one. In the event that we should lose, it is very likely that we will have to find a new squat in January 2005, not sooner! It could take longer and we -with the help of our lawyer- are also trying to do everything we can to win.

When you enter the Hang the first thing you see is a paper with the following text:

Attention:
No Dogs
No Meat
No Graffiti/Tagging/Stickers
No Hard Drugs or Liquor (Vodka, Whiskey etc.)
No Racist, Sexist, Homophobic behavior, symbols or talk.
No Annoying Drunk behavior
No Physical or Verbal aggression


If you don't agree with this, don't come in !!!

---
Projects
As soon as the place had been resquatted lots of projects started of in the Hang. At present some of these are:

'Hangry' Eetcafe -Cheap vegan food, open every Tuesday from 17:00 to 22:00. The
food is usually done at 19:00 and is served until it runs out.
It costs about E 2.50 for a simple meal.
Juice and Coke is very cheap. The eetcafe ALWAYS needs people
to volunteer (cooking/cleaning).

---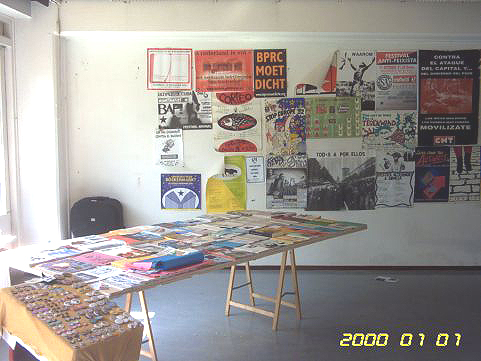 Infowinkel/Stand -Here you can buy books, fanzines, buttons, patches etc. The topics are diverse but include Anarchism, Squatting, Ecology, Activism,
Philosophy and Veganism. The store is only open when the
'Hangry' is open.

---
De Weggeefwinkel -This is a corner where money is worth nothing, all the items in this
corner are given away/are free for anyone who need them. Here
you are both customer and store owner since the weggeefwinkel
store can only exist if people take and bring items...

---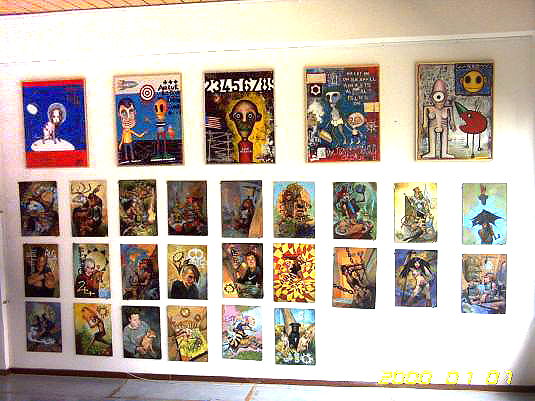 Semi-Permanent -The Rotterdam artists Richard and Rafael have art up.
Expo More to come soon

---
Karate/self defense lessons: these are on:
Tuesday, 17:30 – 19:00

Thursday, 12:00 - 13:30
All Karate by female 2nd dan Black Belt Teacher
---

On all the above days there is also a book/info stand an art exhibition as wel as a "Give Away Shop" (Weggeefwinkel).

On rare occassions the activities are cancelled. Future projects may include: a "bike doctor" (a person who gives advice and some help in order to fix up bikes). Food Not Bombs and many others. If you have a great idea drop by during the eetcafe.